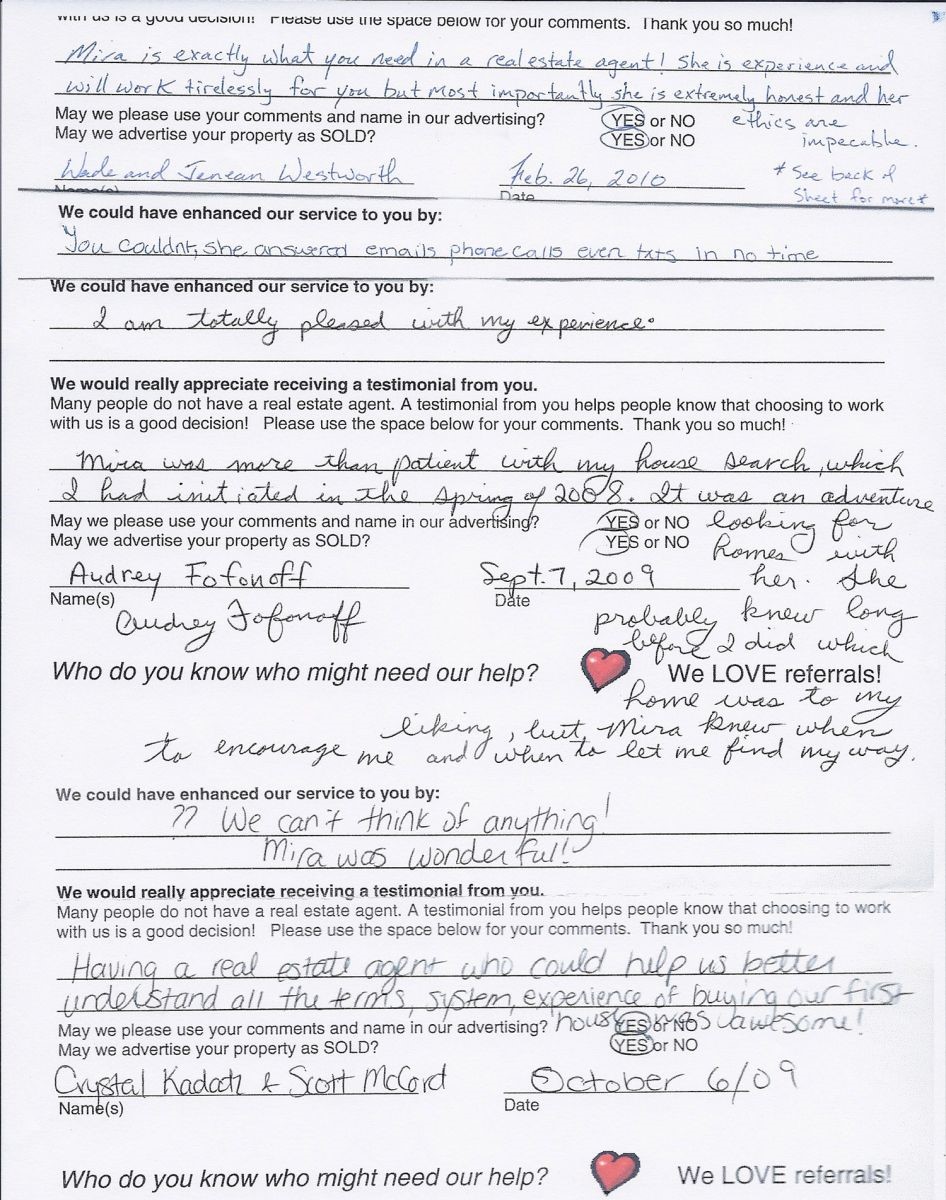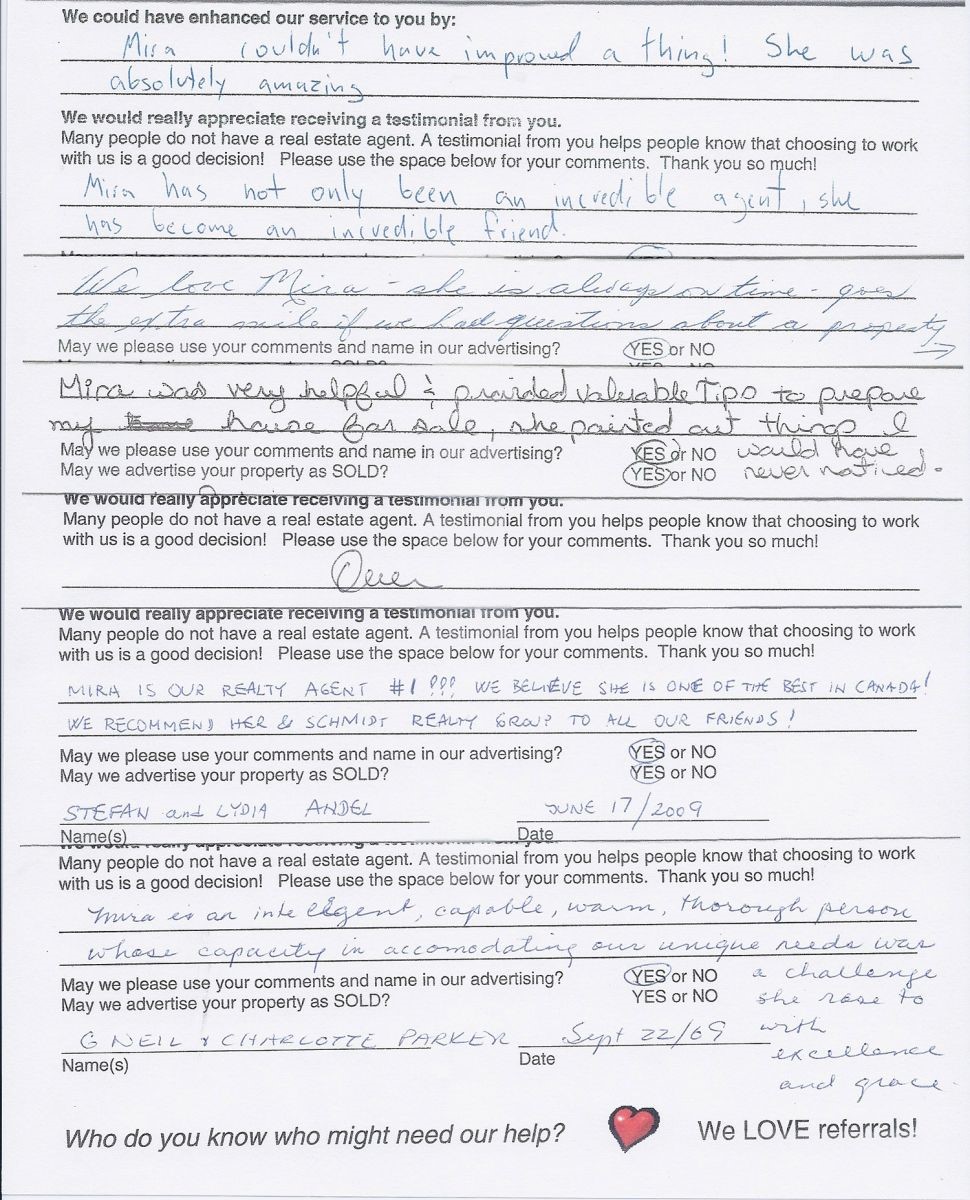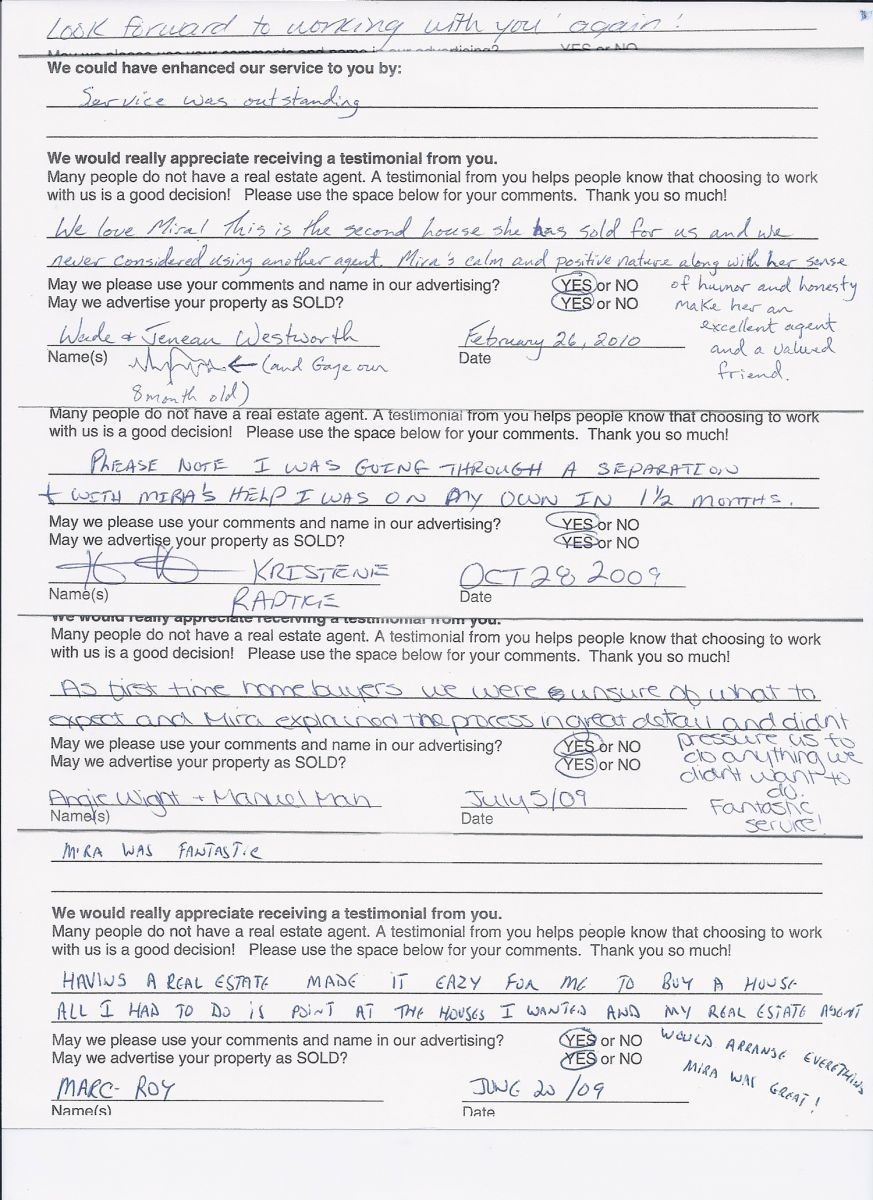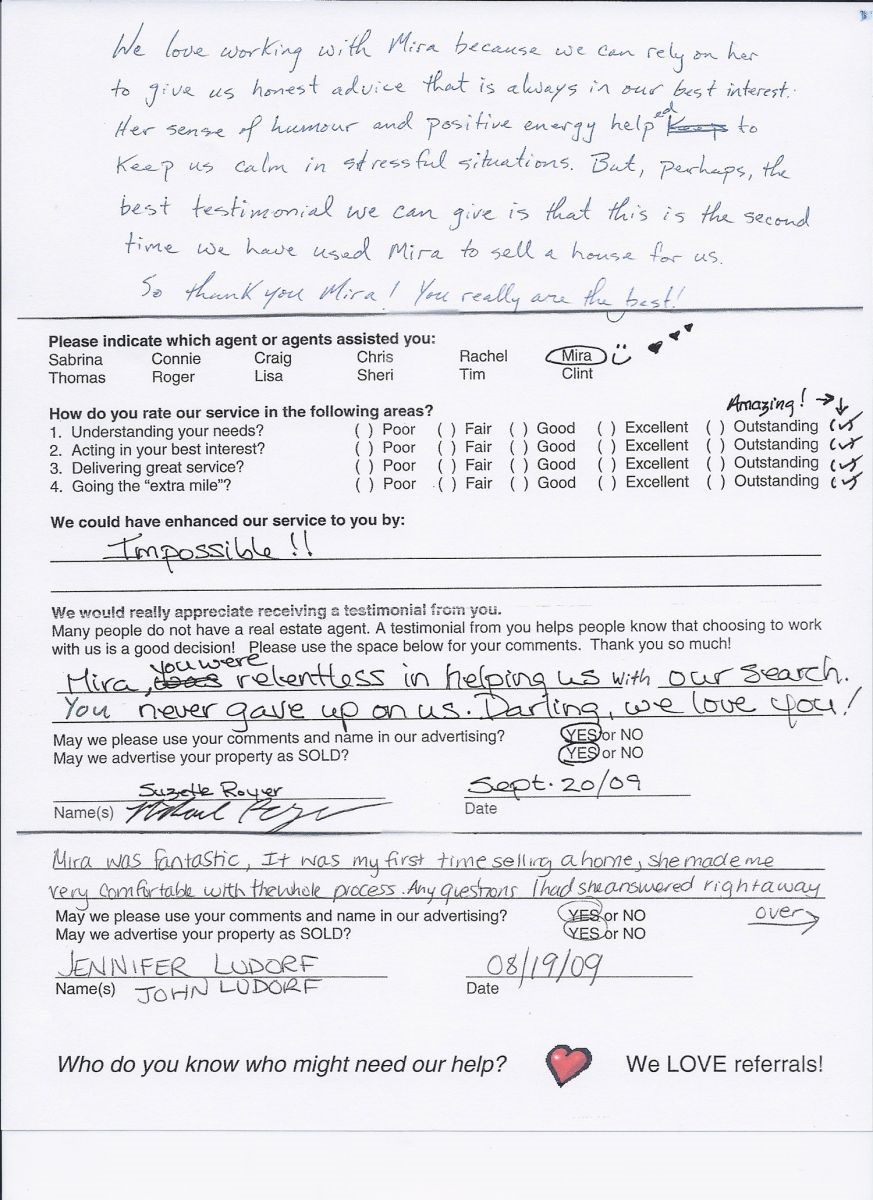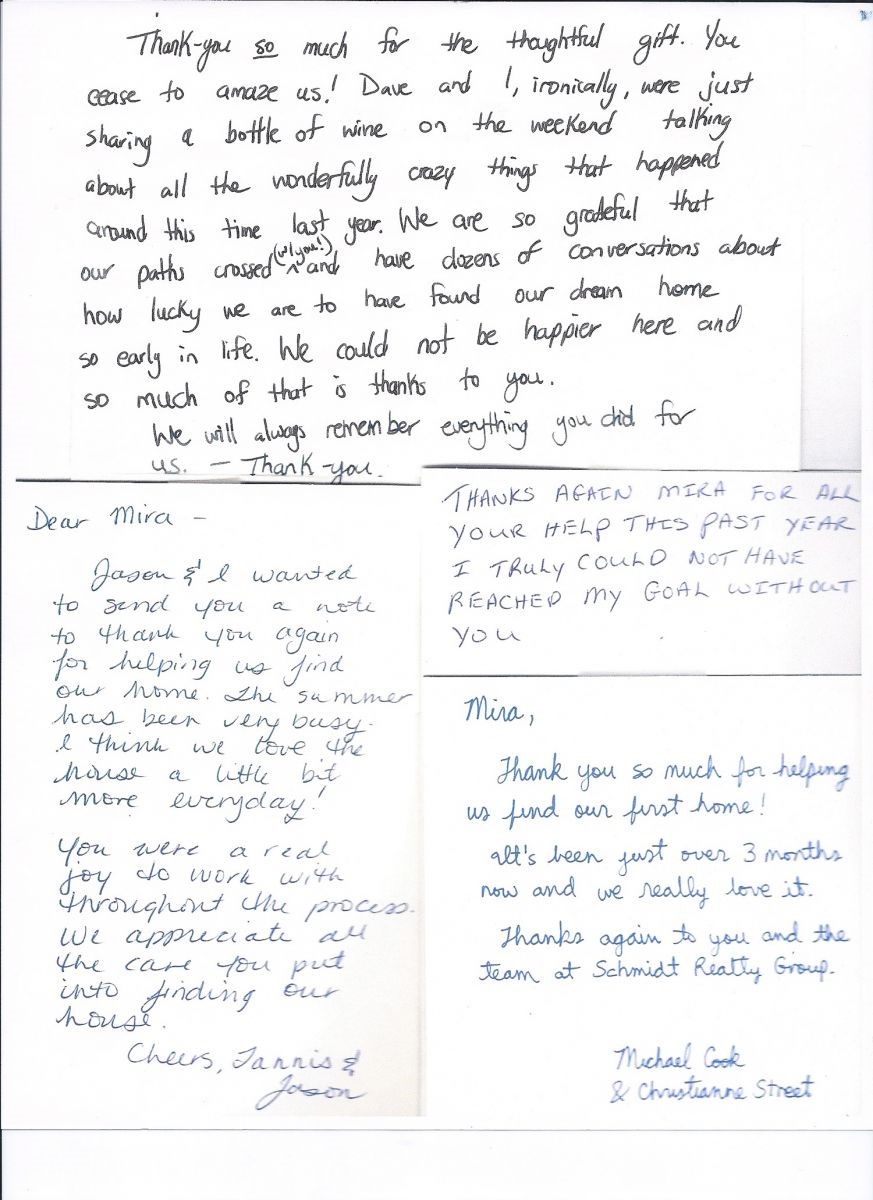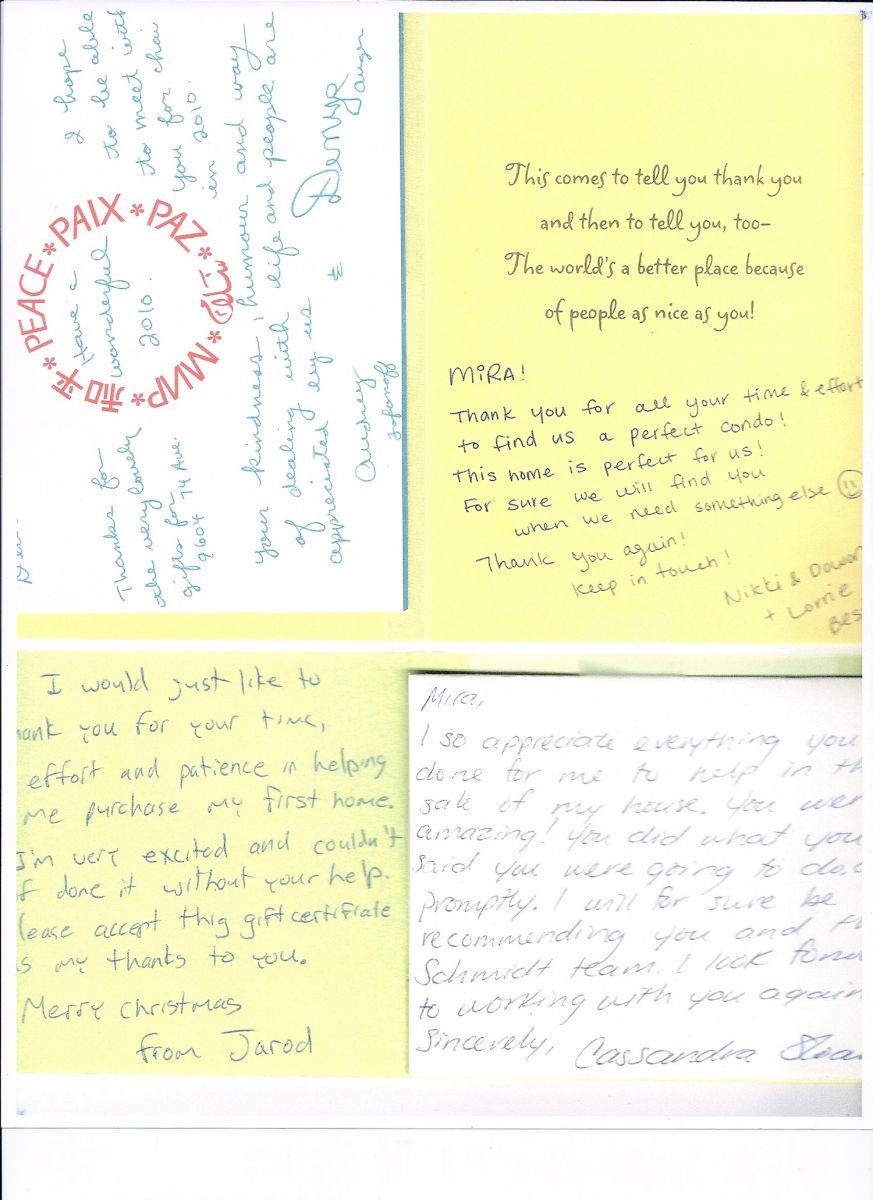 We have high standards and were looking for a real estate agent who was professional, helpful, knowledgeable and did business with integrity. Mira met those standards and it was obvious she cared about helping us find the right house - which she did! Mira provided exceptional service and we so enjoyed her as an agent and as a person. Our rating: 5 stars!
— Kate Wright and Jerome Cranston (Buyer)
Let me first say that upon meeting Mira for the first time I knew that she was the right broker for me. Mira has excellent business values, honesty, integrity, and a great sense of humor which all had a meaningful impact during the process. I knew I could trust her and I felt I was always getting the best possible information and service. Mira truly looked after me; I am a proud homeowner today and thanks to Mira's efforts it was an incredibly simple and rewarding process. Thank you so much!
— Sam Lilly, (Buyer)
Thank you Mira for your wonderful service. You are great at what you are doing and we will definitely contact you again when we need your service. If it wasn't for your additional advice, we would've never got the new house Thank you again,
— Ken & Kun (Buyer)
We found Mira to be professional and knowledgeable about the market. we were not pressured to make quick decisions.
— denis Cunninghame (Buyer)
Mira, thank you so much... she is amazing! Awesome personality. We are blessed to have her as our realtor. From the time we first met her, she already make us feel important. She pampered us. We are first timer in this field of buying a house, but because Mira is great, we learned a lot from her. We just love her : ) we will miss her... we will keep in touch. GodBless you Mira --- mariciel&ben
— mariciel&ben (Buyer)
Mira Wannous was recommended by a friend and exceeded all our expectations with detailed expert advice, friendly personalized approach, and her constant positive and cheerful atitude. We will do same thing and recommend Mira to anyone interested in making a difference when buying a new property or selling their property.
— Stefan (Buyer)
As a first time buyer and new to this area, Mira was the best choice as a real estate agent for us. Strongly recommended!
— Paul Apostolescu (Buyer)
We Like Mira's attitude.
— Don & Marilyn Grafton (Seller)
It is important that I feel that my agent is on my side and has my best interests at heart. I feel that way with Mira Wannous! She is trustworthy, honest and hard working. I will always use Mira as my agent. This is the third time we have worked with Mira and every time she amazes me, she truly cares! Mira's ability to see what would look good in a home is amazing. Her advice on what to change, move, colors to use is always spot on! She made our home so beautiful I wanted to buy it!!! I feel that buying and/or selling a home is a journey, I'm greatful that we took this journey with Mira.
— Jennifer Ludorf, (Buyer)
Mira was very helpful in getting the house ready to go to market and staging. Her checklist of what to take care of after the sale of the house - she truly cares... I would recommend her to my friends.
— Lynn Magnaye, (Seller)
Mira's honesty was appreciated. Was up front in communication and her expectations on our sale.
— Ryan Wynnyk, (Seller)
Would have her again when dealing with real estate. Professional, to the point, and takes care of your real estate needs. Took care of everything. Purchased while on holidays and Mira took care of everything while I was gone. Excellent service.
— Larson, (Buyer)
Mira Wannous made my frist time buying a home easy and comfortable. Mira is full of information about the city and the sounding area that was good to know when buying my new home. She has very good eyes on flaws and defects that is very good to know before investing you money, and is also not afraid to tell you about them. I would refer Mira Wannous to anyone who wants a reliable and trustworthy realstate agent.
— Matt Chaloner, (Buyer)
Mira was great throughout the purchase process. She drove me from east to west and from north to south of the city showing houses. When we picked a house she negotiated the price and cancelled her vacation to ensure everything goes smoothly. Overall Mira was great and made our first home purchase so easy and stress free. She is really on the ball! We appreciate all she did for us.
— Yulduz and Nicholas, (Buyer)
She's the best realtor I've ever had the pleasure of doing business with! She's honest. She understood my needs and the fact that I was not interested in any homes that showed evidence of water issues. She was always available to answer questions and is very proficient in her profession. She's extremely friendly and knowledgeable. She made the buying experience an exciting one. I've never had such a wonderful experience looking for a home! I highly recommend Mira to anyone who is needing help looking for their next forever home. You won't be disappointed!!
— Sandra Clow, (Buyer)
Mira Wannous' attentiveness, and efficiency won me over from the get go. We met with Mira mid-February, and by the end of the month I was laid off. She didn't discourage us; she kept us informed and updated with the markets until I had a job and we were willing to buy again, five months later. Because she had kept contact with us and didn't walk away from us we knew she was the agent for us. Mira was a gem to deal with. She got us a great home in the price range we could afford in a great area with neighbours who are good so far. She was super patient with us, but we got the job done. When we said let's go house hunting Mira hunted like the pro she is. Around 6 weeks from the day we called her to look at homes we were moving into our little bungalow. Thank you so much for you hard work and patience Mira.
— Madyson Gagne, (Buyer)
Mira was AWESOME!!! She understood what we wanted AND what we didn't!!! Very helpful, friendly, knowledgable, and made the process of buying our FIRST home EASY!! Mira made it easy!!
— The Fischer Family (Buyer)
Mira Wannous was always available and even when she wasn't she made sure someone else was there to help us, her personality shines and we always enjoyed our viewings with Mira. Thanks again!
— Nadine and Dave, (Buyer)
I really appreciated Mira's honesty throughout the process. She never pushed me into something I didn't need or want. I'm very pleased with how she treated me.
— Thomas Mladenka, (Buyer)
Mira Wannous helped me find my dream home and I couldn't thank her enough! She is one of the most kindest, genuine and sincere people I have ever met! Her knowledge and experience made me feel very confident in my decision to choose her to work with me and I am so grateful that I got to experience my purchase of my home with her assistance. She always had an answer for any of my questions and was very reliable. I would recommend anyone I know to see her when they are interested to purchase a home.
Ewa Pasiowski (Buyer)